Facebook Reels! Here's Your Step-by-Step Strategy for This New, Game-Changing Feature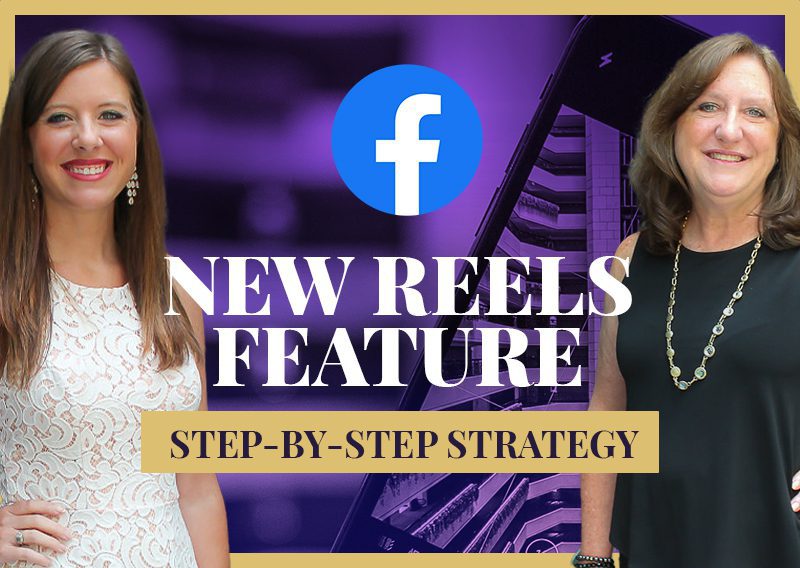 Facebook Reels! Here's Your Step-by-Step Strategy for This New, Game-Changing Feature…
New Feature Alert!! Reels are now on Facebook! Unless you've been hiding under a rock… you've already seen how TikTok & Instagram Reels have changed the video marketing landscape for good, making it easier than ever for the brand new person to rapidly grow their audience and connect with their ideal clients on social media.
And because we KNOW how Zuckerburg loves a good copy-cat strategy… (Remember we have Instagram & Facebook stories because of Snapchat!)… of course he has now made Reels available on the worlds biggest social media platform: Facebook.
In this video I'm breaking down everything you need to know about this new feature AND, even more importantly, sharing a step by step strategy to help you start capitalizing on it TODAY!
Every once in a while, a new feature comesaround that changes the social media landscape for good. It happened with live video on Facebook in 2015, which… you may remember… was a copy cat of the popular app, Periscope. 
Instagram stories came out in 2016, copying the every popular "here for 24 hours then gone forever" trend that Snapchat made popular. And following the rise of TikTok, Instagram responded by releasing Reels in 2020.
Just like stories first showed up on Instagram before eventually being added to Facebook… Reels have now been added to Facebook too. And this is news of absolutely EPIC proportions.
For the last few years Facebook has made it more and more difficult to grow your audience on the platform without spending thousands of dollars on ads.
As a result, many entrepreneurs have been turning to platforms like Instagram and TikTok to grow their audiences organically AND much more quickly than ever before. That all changes now… with Reels coming to Facebook. 
Facebook has announced that users can now start using reels to attract new followers to their personal profiles – something that up until now has been completely lacking. Before now, if you wanted to grow your friends & followers on Facebook, you had to spend hours a week networking inside of groups, send out dozens of friend requests a week, and rely on content you post to other platforms to drive traffic to your Facebook account & group. 
Now, you can start posting reels on Facebook – effectively growing your friends & followers organically for the first time ever. 
As someone who's been using Facebook almost exclusively to grow our 7 figure business over the last 4 years, I can't even express how EPIC this new change is. BUT… you need a step-by-step strategy to capitalize on it, so let's dive in:
Facebook Reels for Business | Find Your Niche
First thing's first – you need to get super clear on WHO you want to attract using Facebook reels. The reels algorithm on Facebook is ALL OVER THE PLACE right now, and in the coming weeks and months, as it becomes more sophisticated, you can secure your place as a reels influencer on Facebook by creating content consistently around topics that speak directly to your ideal clients & customers. 
That means you need to get super clear on who you help, and how you help them within your business. We did an entire video around this, which you can watch… right here.
Facebook Reels for Business | Create Your Content
Once you get clear on your niche, it's time to start creating content. Again – the Facebook algorithm is super new, and no one really knows what type of posting strategy will work best. We will be testing this extensively… and will be sure to create a second video as soon as we have more. BUT for now, we can lean on what we know about the TikTok & Instagram Reels algorithm to create a strategy for getting started with Facebook Reels. 
When it comes to TikTok & Instagram Reels, more is always better. Taking that knowledge and applying it to Facebook, we can safely assume that aiming to post at least ONE reel to Facebook each day would be a great place to start. 
If you have space in your day you could double this, but something else we know about TikTok & Instagram Reels algorithm is it values CONSISTENCY over volume. Meaning, it's best to pick a strategy you can stick with consistently, rather than posting a dozen reels this week only to disappear and post nothing next week because you got behind and overwhelmed. 
Personally, we're going to test posting ONE reel a day AND while also sticking to our usual Facebook posting strategy of one regular post a day… consistently for 30 days, then evaluate and adjust from there. 
Facebook Reels for Business | What to Post About
When posting on social media, your posts should serve 3 main goals: attract new friends & followers to your account, nurture your current friends and followers, and convert people into leads, sales & signups for your business.
You need to hit all 3 categories consistently in order to create results. And reels are no different.
Since reels are the only type of posts you can use on Facebook that will be shown to people who aren't following you yet… The majority of your reels should focus on attracting attract new people to you, allowing you to grow your audience and fill it with people who are a perfect fit for your products, service and business. 
These posts should inspire, educate, entertain or inform your audience… as it relates to your niche. 
So, for example, if your business helps new Moms lose baby weight with simple 15 minute workouts they can do from home, you want your reels to be focused on providing content that new Mom's would find to be inspirational, educational and entertaining.
We recently did a video showing real examples of each post type, along with a weekly social media posting strategy & schedule for your Facebook & Instagram feed and stories, which you can watch right here. 
Our advice would be to take that posting strategy, use it as it is, and then add in one Facebook reel each day as well.
When you follow our posting strategy you'll see one important aspect is the calls to action you use each week. Views, likes, comments & followers are great… but we can't forget that the REAL reason we use social media as entrepreneurs is to get more leads, sales & signups, right?
We want to help you create step-by-step strategy for turning those views into real tangible results for your business. That's why we created a free, 60 minute training where we outline the complete blueprint we followed to go from just getting started… with no audience, no influence and no income… to hitting $300,000 in sales with our business in just 10 months.
The best part is, when you get this strategy working in your business, it will actually start delivering you sales on autopilot DAILY, without you having to spend hours a week sending private messages to people, get on time consuming zoom calls, or wait until your next big "launch" to start generating revenue.
You can get the full rundown and watch the entire training now by clicking here.
Facebook Reels for Business | FAQs & Expert Tips
Facebook reels are being released slowly, and as of right now are only available in the US, and not everyone in the US has access to them yet. To see if you have reels, open up the Facebook app on your phone, click on the menu in the bottom right corner, and look to see if Reels are showing up. If they're not, the first step is to update your phone software so that it's operating on the newest update. 
Then, update your Facebook & Instagram apps, and see if reels show up. This worked for me… but we have several clients who followed these steps and still don't have access to reels on Facebook yet, so if you don't see it just be patient and check back daily. I expect you'll get access to them very soon! 
To post a reel on Facebook, just click on the blue + sign on your mobile app, and click on Create Reel. You can either create a reel natively within the Facebook app, OR add a video from your camera roll. 
This works great if you're already using Instagram or TikTok to create your reels. You can save them to your phone, then upload to Facebook reels as well. One thing to note: when saving from Instagram you are NOT allowed to save the audio, so you'll have to look for the same audio or a similar one on Facebook and add it to the video from the app.
TikTok does allow you to download the audio, HOWEVER… Facebook has already announced that, like Instagram, they will be limiting the reach of videos that show the TikTok Logo. So you'll want to use an app like SnapTik or SaveTok to remove the tiktok logo before uploading the video to Facebook Reels. 
Remember consistency is key, so pick a schedule you can stick with! Aim for 1 reel a day, but don't be afraid to start with even less if that's what's better for your schedule. Even just 1 reel a week is better than none!! 
Set aside a couple of hours to record your reels for the week, so you don't have to stress about recording new videos every single day. My favorite way to do this is to scroll through reels on Instagram to get ideas and save audios. Then, I outline how to recreate some of the videos I saw for my business… using things that will be valuable or entertaining for OUR ideal clients & customers. 
Once I have my ideas outlined, I sit down and record them all at once, saving them in drafts AND on my camera roll as a backup. 
And please, please please… don't fall in to the trap of posting without a purpose, or without a clear strategy for turning all this hard work you're doing into consistent revenue for your business. Remember to check out our free Repeatable Revenue Masterclass, where we share the unique blueprint we followed to go from social media nobodies to hitting 300K in sales in just 10 months with our new business. You can reserve your seat by clicking the button below! 
Profitable Social Media Posting Plan for Facebook, Instagram & Stories – Learn More
Are you ready to show up, get seen, and start generating more sales on social media?
Inside this powerful resource we share our exact social media posting plan (with a sample schedule!) for Facebook, Instagram and Stories... giving you a rinse-and-repeat strategy you can start using to generate more likes, comments, leads & sales today!
FREE TRAINING: Go Behind the Scenes of the Personal Branding Strategy We Used to Go from Social Media Nobodies to Multiple Six Figures in 10 Months – Learn More
Did you get some value out of this episode?
We sure hope so, because we put our hearts and souls into sharing our best practices for what is an isn't working in our network marketing business so you can get better results and reach your own network marketing goals.
Did you get value from this post?
If you love sharing valuable info (and really, who doesn't!?), please feel free to share!